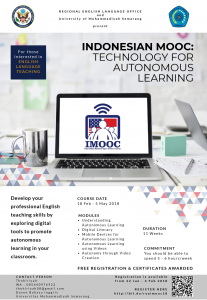 Semarang | Unimus (January 27, 2018) Universitas Muhammadiyah Semarang (Unimus) becomes one of totally 15 institutions in Indonesia selected to cooperate with the Regional English Language Office (RELO) of the U.S. Embassy to organize a digital program of the Indonesian Massive Open Online Course (IMOOC): Technology for Autonomous Learning 2018.
Themed Technology for Autonomous Learning, the IMOOC is an online learning initiated the RELO of the U.S. Embassy and 15 E-Teacher alumni. The first round of the IMOOC will be held in February 2017. This program is an opportunity for English teachers as well as English teacher candidates in order to get learning experiences outside the classroom in terms of the use of digital devices for learning. By practicing using online devices and also autonomous learning, the participants of the IMOOC are expected to have conscience about becoming autonomous learners.
Thohiriyah, S.S., M.Hum., an English lecturer in the Faculty of Foreign Language and Culture at Unimus, also an alumnus of American English (AE) E-Teacher, is selected to be one of totally 15 facilitators from 15 institutions in order to facilitate the IMOOC 2018. This year, this program will be held for 11 weeks from February 18 to May 5, 2018. The IMOOC is free and open for anyone interested in teaching English, including teachers and teacher candidates. Learning in this program is through online so that the participants can do learning anywhere and whenever they want. The participants will get some e-module and also certificate at the end of the program.
To join the program, the prospective participants only need to register on http://bit.do/ryaimooc18 until February 4, 2018. The selected participants for the IMOOC 2018 will be announced on February 10-11, 2018. For further information, feel free to contact Thohiriyah, S.S., M.Hum, by phone or WhatsApp on 085640976922 or email on thohiriyah08@gmail.com.