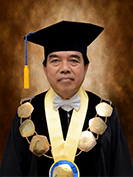 Welcome to the official website of Universitas Muhammadiyah Semarang (University of Muhammadiyah Semarang).
Alhamdulillahirobbil'alamiin, all praises and thanks are due to the Almighty Allah for the favors and gifts that Allah has bestowed on the entire academicians of Unimus.
By saying Basmallah, we will guide you to know more about our beautiful campus. Unimus has a vision to become an excellent, distinctive, technological based, and having international insight, which is translated into nine missions.
They are:
To conduct internationally quality higher education institution relevant to the public's needs in accordance with Islamic values.
To conduct excellent, distinctive, and technological-based learnings.
To develop excellent researches and community services on the national level that supports the development of science, technology, and arts.
To create competent graduates able to fill as well as create jobs.
To develop an academic atmosphere based on Islamic values
To create a professional (accountable & transparent) and Islamic governance.
To establish cooperation with institutions and communities in order to enhance education, researches, and community services.
To develop an autonomous venture that supports the management of higher education and welfare of the entire academicians.
To develop and utilize technology that supports services of administration, information, and communication.
As the realization of the vision and missions, Unimus has launched a paradigm "A University for the Excellence".
Through an intensive preparation, a decision was taken in regard with the establishment of a Higher Education in form of University. On August 4, 1999 Minister of Education and Culture of the Republic of Indonesia issued Operational License no. 139/D/O/1999 for the University of Muhammadiyah Semarang.
There were 14 study programs that got an operational permit in 1999. And, by 2015, Unimus has had 22 study programs, including 2 professional programs, 15 undergraduate programs, 1 diploma 4 program and 3 diploma 3 programs under 9 faculties, i.e. Faculty of Nursing and Health Sciences (FIKKES), Faculty of Public Health (FKM), Faculty of Engineering (FT), Faculty of Economics (FE), Faculty of Foreign Language and Culture (FBBA), Faculty of Mathematics and Natural Sciences (FMIPA), Faculty of Medicine (FK), and Faculty of Dentistry (FKG).
By now, Unimus has owned sufficient facilities, including facilities and infrastructure, land, buildings, as well as the equipments as supporting educational facilities that are continually improved either physically or in accordance with the utilization. Campuses that Unimus have are as follow:
Kampus I (Integrated Campus Complex), located at Jl. Kedungmundu Raya No. 18, Semarang, on a land of 72,000 Sq m, where Rectorate building, mosque, student dormitory, Nursing Research Centre (NRC) building, Student Activity Center building complex, sports center, medical laboratory building, and Unimus Medical Center (UMC) building take place.
Kampus II (Kedungmundu), located on a land of 4,300 Sq m, used for the Faculty of Nursing and Health Sciences and Faculty of Dentistry.
Kampus III (Wonodri), located on a land of 1,650 Sq m, used for the Faculty of Dentistry.
Kampus IV (Kasipah), located on a land of 2,205 Sq m, used for the Faculty of Engineering.
Wonolopo laboratory takes place on a land of 2,000 Sq m, use for the public health laboratory.
As time goes by, the development of facilities and infrastructure at Unimus has been running so fast in line with the academic development. Hence, the current facilities and infrastructure also need to be improved in terms of both the quantity and quality, as a consequence of the increasing budgets for facilities and infrastructure. In accordance with the increasing number of activities at Unimus, the number of students as well as organizational structure and technological governance system also keeps improving. Infrastructure developments that have been planned and are on progress include the construction of Educational Dental and Oral Hospital (RSGMP), Rehabilitation and renovation of Campus III (Faculty of Medicine), Renovation of the Integrated Campus' main gate, and Integrated Campus master plan preparation. The information technological development includes inter-campus connection network development covering Kedungmundu, Wonodri, dan Kasipah campuses; internet and hotspot area development in the campuses of Unimus, as well as designing IT corner in every campus corner, provided for the students.
It is a blessing and pride for us that the alumni of Unimus have worked in many places both in the country and overseas, which match with their professions and knowledge. As an Islamic campus, Unimus has implemented the Four Obligations of Higher Education (Catur Dharma Perguruan Tinggi) by conducting Islamic activities every day, such as doing Prayer in Congregation and holding routine Thursday Morning Recitation. The entire senior leaders and academicians at Unimus take part in developing Unimus.