Semarang | (03/08/2018) August is the sacred month for Unimus since it is the celebration of Independence Day and Unimus' 19th Anniversary. In celebrating its Anniversary which is always commemorated on 4 August, Unimus held several events.
Without losing its euforia, the simple celebration highlighted on reflection, self-evaluation, quality improvement and commitment of all members of Unimus Academic society. There were several competitions held in energizing 19th Milad of Unimus such as table tennis, futsal, badminton, volley, karaoke and choir. The Feast of 19th Unimus' Anniversary was ended by the tumpeng cutting ceremony by the Rector and door prize distribution for the participants of fun walk in front yard of Unimus on Friday (03/08/2018)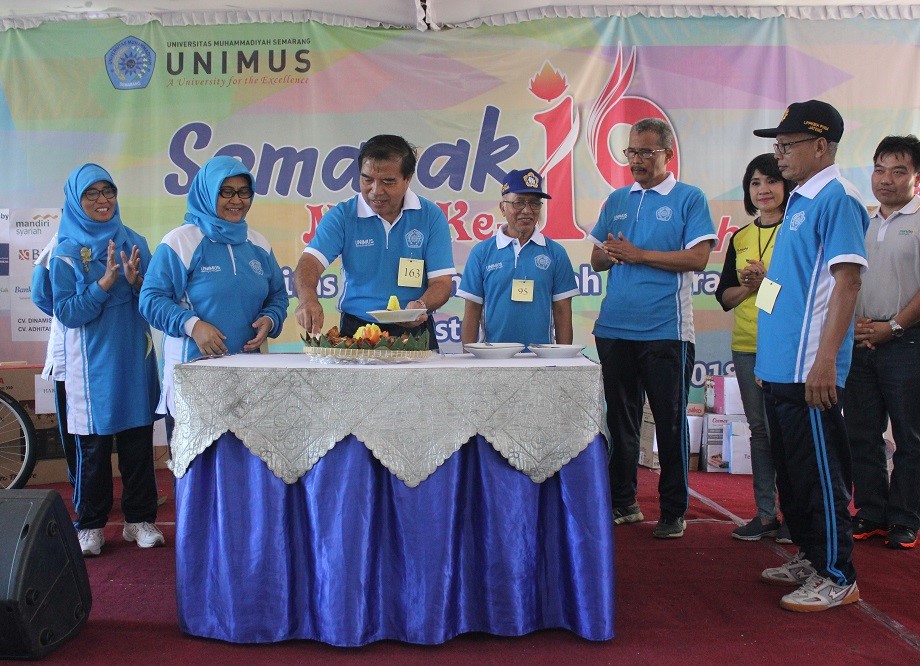 Rector of Unimus cut tumpeng as the gratitude symbol of 19th Unimus' Milad
Prof. Dr. Masruhki., M.Pd as the Rector of Unimus said that Unimus is young, but it progresivelly enhance its achievement and services in order to realize the top rank University. "Based on 4 International Colleges and Universities (4ICU) Unirank in July 2018, Unimus is ranked at number 54 for both state and private top university in Indonesia. It means that Unimus is on the track. In addition, all elements such as Human resources, learning process, lecturers' papers, students, facilities needs to be developed and accelerated" ended the Rector. "In this year, Unimus will open new study program such as Master of Science in Laboratory Medicine. Unimus today is getting ready for several upcoming new study programs such as Master of Nursing, Midwifery Professional Education, Bachelor of Information and Technology, Bachelor of Education of Physical Education, Sport, Health and Recreation (PJKR) which are awaiting its process in the Ministry of Research Technology and Higher Education." He explained. "Unimus is the youngest Muhammadiyah Higher Education Institute among 177 other Muhammadiyah Higher Institutes in Indonesia but we are highly optimistic that by having good synergy of all academic society members. Unimus is going to be better day by day." He also expected that in this mature age, every resources owned by Unimus keep on hard working and be optimistic in order to get itself ready for competition with another Universities.
Reported by the Technical Unit of Public Relation and Protocol