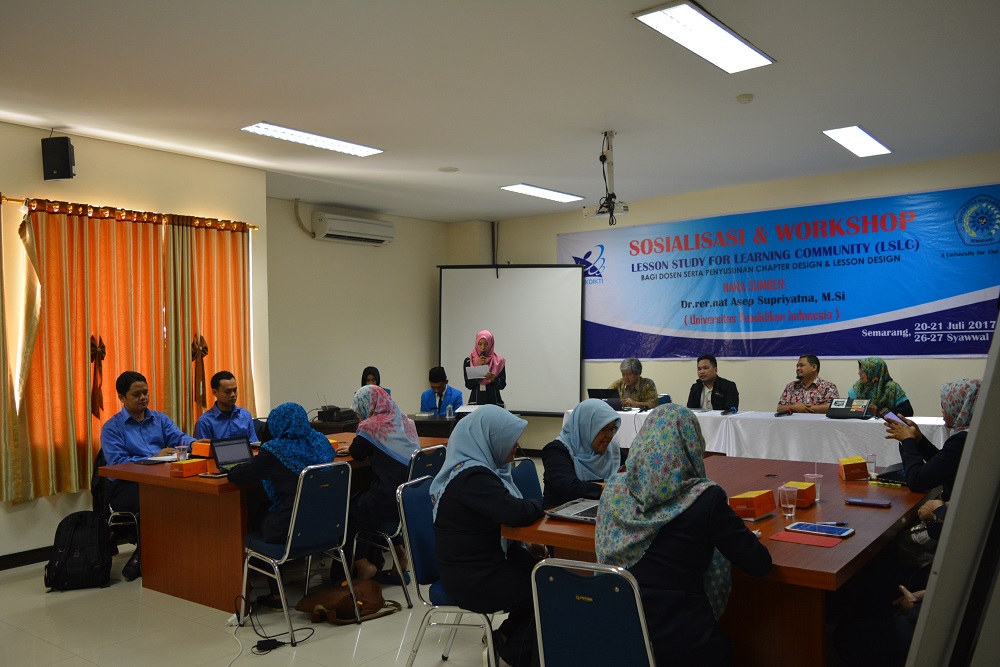 Semarang │(20/7/2017) Faculty of Mathematics and Natural Sciences (Fakultas Matematika dan Ilmu Pengetahuan Alam/FMIPA) at Universitas Muhammadiyah Semarang (Unimus) holds a workshop on Lesson Study for Learning Community (LSLC) for lecturers, starting from today to Saturday (July 20-22, 2017), located in the Nursing Research Building of Unimus. Dr. rer.nat Asep Supriyatna, the team leader of the Lesson Study program at the Directorate General of Learning and Student Affairs (Direktorat Jendral Pembelajaran dan Kemahasiswaan/Belmawa), the Ministry of Research, Technology, and Higher Education becomes one of guest speakers in the event. Also invited in the workshop is Dr. Iwan Junaidi, an experienced LSLC facilitator from Universitas Negeri Semarang.
In the workshop beginning today, the participating lecturers will be taught how to create fun learning in a classroom. Dr. Asep in his speech stated that a lecturer should understand that success in learning included how to make students not get tired after attending a class, be interested in a material given  as well as quick to understand it and love studying, and how to make sure that every material given meets with their needs in the future. "This simple method hasn't totally been applied by lecturers in when teaching, even though if it is properly applied, I guarantee that people will like studying in the campus. People will entrust the institution to provide a place for young generations to get knowledge with happy feeling and expectation for the use in the future. " stated him, a doctoral degree graduate from a Japanese university. Dr. Asep added that lecturers should create a classroom atmosphere that can attract students to learn.
This workshop is held, following an LSLC grant from Kemenristek-Dikti, received by the Faculty of Mathematics and Natural Sciences of Unimus. Dr. Eny Winaryati., M.Pd., the dean of the faculty, revealed that the workshop was held to enhance the quality of learning in a classroom. Result of the event will be published in a national seminar of the LSLC in Mataram, Lombok, at the end of September 2017. "Lecturers are taught several important topics to improve their quality in learning, including how to design learning, compose materials, as well as choose student-centered learning methods" she added. During 3 days, 15 lecturers from three study programs in the Faculty of Mathematics and Natural Sciences at Unimus will be taught how to develop chapter design, lesson design and open lesson. Through the event, it is expected that quality of learning in the Faculty of Mathematics and Natural Sciences at Unimus will be enhanced, so that quality graduates can be created.
Reported by the Technical Unit of Public Relations and Protocol.