Kedungmundu | Unimus (17/08/2019) In celebrating the 74th Indonesian Independence Day, Universitas Muhammadiyah Semarang (Unimus) held flag ceremony lead by Rector of Unimus, Prof. Dr. Masrukhi, M.Pd. It was engaged in front of Unimus Rectorate building, attended by board of management such as Vice Rectors, Deans, Chairperson of Bureau, Chairperson of Institutions and Academician society in Unimus. It was begun exactly on 07.00 in the morning. The special thing, that there was performance of Unimus students as the National Flag Hoisting Troop (Paskibraka) from various students organisation such as Scout (Pramuka and hizbul wathon, Resimen Mahasiswa, and Unimus Choir (PSM).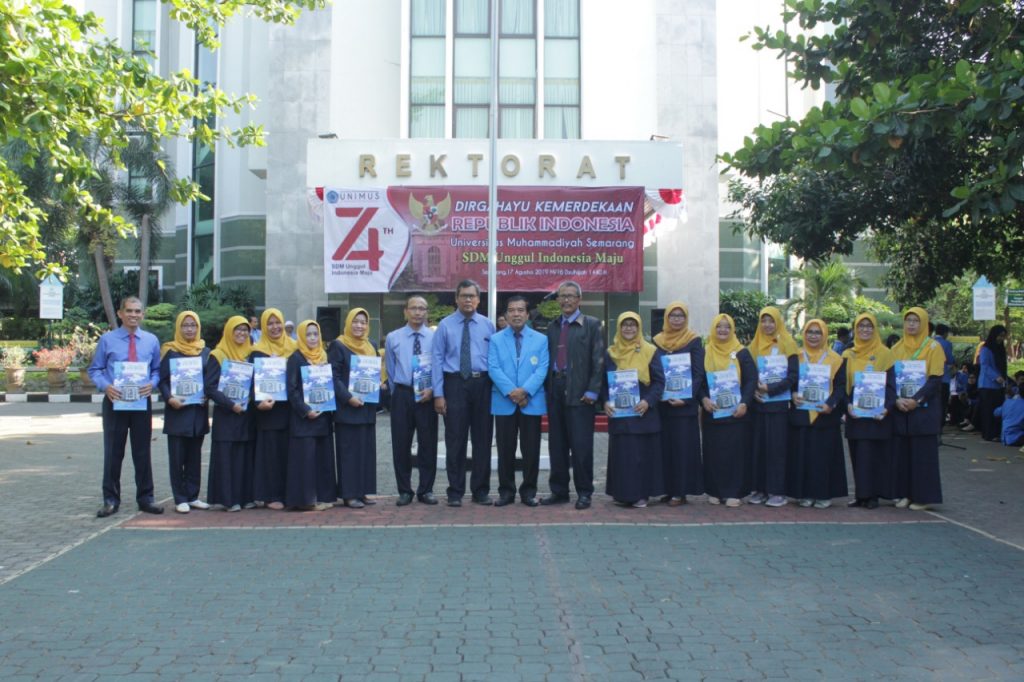 Prof. Dr. Masrukhi, M.Pd., delivered his speech
Rector of Unimus stated that Independence Day was important momentum because it represented the declaration of Indonesian Independence Day, where all the struggle begin. "In 2019, official theme of 74th Indonesian Independence Day is SDM Unggul Indonesia Maju or Excellent People for Indonesian Development. Excellent people is qualified generation who has competitiveness in global world. It also includes educated, characterised people and has high nationalism spirit as well as people with akhlakul karimah" he explained. "Unimus as one of the Muhammadiyah Higher Education Institutions in Indonesia would always contribute, actively engaged in creating excellent generation", he added. "We should give meaningful contribution for the sake of our country's development, and all of Indonesian citizen must contribute and do the best for it." He ended.
Rector and Vice Rectors took picture with the Unimus Paskibraka
The best effort of realising the development of Indonesia by Unimus academician society are manifested by the great achievement made by lecturers, administrative staffs, and students in conducting four pillar of higher education (catur dharma perguruan tinggi). Upon finishing the flag ceremony, Rector of Unimus delivered some awards to all lecturers and administrative staff for their achievement and best works. Such awards were given for lecturers who has successfully published their research in both accredited national and international journal, HKI, copyrights, and patents. Besides, Rector of Unimus also delivered awards to Unimus students for their national and international achievement. International achievement was given to Unimus Choir who won the gold and silver medal in international choir championship, six students in winning the international pencak silat championship, and five Chemistry education in winning the science competition in Malaysia. While another awards were given to students who win poster and sport in national level. In addition, some awards also given to students in regional achievement, such as students who won the Students Sport Week (POM) in Central Java. In addition, several awards also given to champions in internal competition held by Unimus in commemorating the 74th Indonesian Independece Day and 19th Milad of Unimus such as photography and videography contest, futsal, badminton, volley, table tennis, and karaoke contest).
Reported by the Technical Unit of Public Relation and Protocol