Semarang │Unimus (14/2/2019)  Violence, radicalism, and terrorism are becoming major awareness of people in Universitas Muhammadiyah Semarang and Majelis Ulama Indonesia-Indonesian Council of Ulema Central Java Branch (MUI). Unimus and MUI synergy themselves to speak about rejecting radicalism in campus. This was manifested into talkshow and interactive dialogue as the collaboration between Unimus and MUI regional Central Java, Masjid Agung Jawa Tengah, and TVKU. This wonderful talkshow entitled "Strategi Kampus Memerangi Radikalisme" was organised in NRC Building Unimus on Thursday (14/02/19). In this event, Rector of Unimus, Prof. Dr. Masrukhi, M.Pd and Dr. KH Fadlolan Musyafa', Lc.MA, secretary of Fatwa MUI regional Central Java attended the talkshow and was participated by 120 student representatives and Students organisation in Unimus and General Secretary of MUI Regional Central Java, Drs. H. Muhyiddin, M.Ag.
Dr. KH Fadlolan Musyafa', Lc.MA explained that there are two type of radicalism, scubas positive and negative radicalism. Positive radicalism related to how to perform good and proper religion, while negative radicalism related to insist that particular principles is the best concept and even improper, for instance, jihad that is always perceived as murder. That is why, as a university students, they have to understand typology of radicalism. "Students should be aware of global scenario which appears to weaken Indonesia through destructing the young generation. It will be done by destructing someone's religion or aqidah and drugs. Then, to avoid such threat, students must strengthen their religion." He said.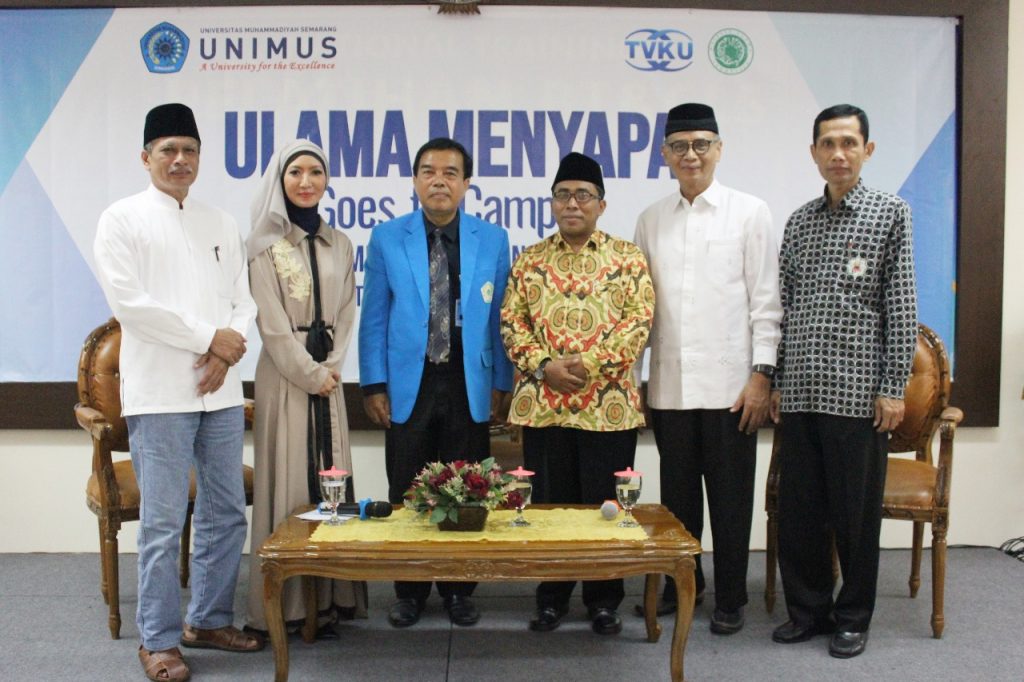 Rector of Unimus, Prof. Dr. Masrukhi took a picture with KH Fadlolan Musyafa', Lc.MA, Drs. H. Muhyiddin, M.Ag, and host TVKU
Prof. Dr. Masrukhi also said that negative radicalism is against our ideology and Pancasila in the context of Indonesia. When he was asked about the radicalism in campus, he explained that university student is idealist. Most of them are looking for good idealism for them. "Students are categorised into several type of radicalism such as confrontative, realist, profesional, opportunist, and party typology. Kinds of negative typology i.e. confrontative and party typology. Students with confrontative type would insist their ideology by performing demonstration in the street. Whereas, students with party type is group of students that like to organize parties and hedonism. They are vulnerable of radicalism attack." Said Rector of Unimus. He also shared his experience to solve students radicalism related to NII network. Prof. Masrukhi explained that campus needs to learn from forbidden organisation cases about NII (Negara Islam Indonesia) that appeared couple years ago. At that time, NII "succeed" in taking some students to join its organisation. Those who joined the forbidden organisation would make massive transformation such as, being introvert and impolite. Any "brainwash" also conducted to make them forget about their parents. Prof. Dr. Masrukhi elaborated that education as the strategic way to develop our nation, and it also responsible to untie and put religion into account in order to avoid radicalism. "As the effort of fighting against radicalism effect,  Unimus develop Islamic culture and internalise it into daily activities", rector ended.
Reported by Technical Unit of Public Relation and Protocol