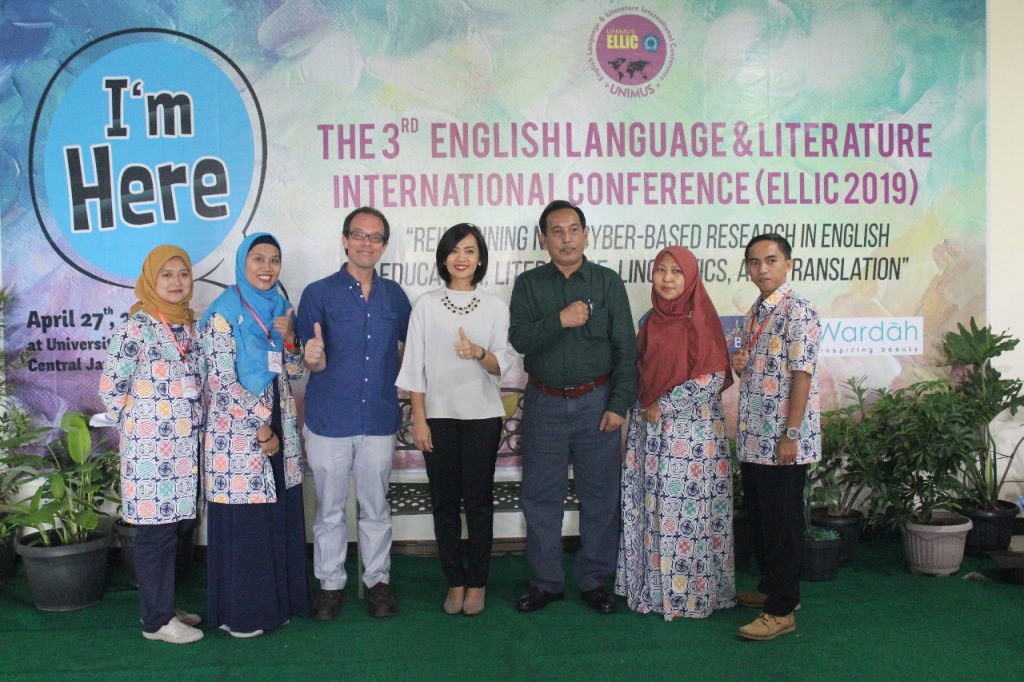 Semarang │(27/04/2019) In industrial revolution 4.0, the use of technology has becoming the prominent needs. To answer this, spesific competence such as problem solving competency, critical thinking competency, and creativity competence are demanded. Technology innovation and creativity in disruptive era was becoming the hot issue to be carried out in the 3rd English Language and Literature International Conference themed "Reimagining New Cyber-Based Research in English Education, Literature, Linguistics, and Translation". This international seminar was organized by Faculty of Foreign Language and Culture of Universitas Muhammadiyah Semarang in NRC Unimus on Saturday (27/4/2019). This conference was participated by 150 participants from at least 7 countries (Indonesia, Singapore, Thailand, Australia, Philipina, Malaysia and Lybia). In this opportunity, ELLiC 2019 invited several outstanding speakers such as Asst. Prof. Kornwipa Poonpon, Ph.D (Thailand), Prof. Mangatur Nababan, Ph.D (Indonesia) dan Asoc. Prof. Faizah Idrus, Ph.D. While the keynote speaker were Mark Fifer Silhamer, Ph.D from Nanyang University Singapore.
Dean of FBBA Unimus, Yesika Maya Oktarani., M.Hum stated that we need to conduct collaboration to find the best format in English teaching and learning related to industrial revolution 4.0. Thus, we brought world in our class to strengthen the English learning process. "In the era of industrial revolution, everyone must pay attention to any aspect happened in this universe, since world become "smaller" or is in our hand. As the English scholar, educators must be responsible to balance the learning process in the classroom with the world nowadays. They should follow the latest information and elaborate the use of media in order to achieve more effective English learning." At the same time, Dr. Dodi Mulyadi, as the Chair of the committee explained that the use of cyber technology is inevitable because it encourages educators, translators, and researchers to migrate from manual to electronic media or even to blend both. "The use of cyber technology and cyber access is the consequence of education 4.0 in English education, literature, linguistics, and translation. It is applied to develop English by choosing the appropriate strategy/method in English teaching, literature and translation.
Prof. Kornwipa Poonpon, Ph.D as the first speaker elaborated about "Learner corpora and language testing and assessment: application and challenges". While Prof. Mangatur Nababan, Ph.D, a professor from UNS delivered about "The applied of creative and critical thinking in translating". In addition, Asoc. Prof. Faizah Idrus, Ph.D as the third speaker discussed about "Exploring cybernated storytelling via multimodal literacy". Then, it was ended by the presentation of Mark Fifer Silhamer, Ph.D as the keynote speaker to talk about "Use of technological tools to help students engage with the language that surrounds them". Mark said that English words found in traffic light, advertisement poster, street name, public sign and so forth creates linguistics landscape of certain region. "Learner may observe any things related to media and technology in their surrounding to think critically. Of course we do need to be more sensitive to observe our vicinity in order we can respond it quickly and critically." he ended.
Upon listening to the speakers' presentation in plenary session, 120 participants presented their research article in paralel session. This agenda was ended by City Tour for in order to promote Semarang tourism and local wisdom. This international seminar is expected to be one of FBBA efforts in encouraging University credo to realize Unimus as the international university. It also promotes Unimus to be World Class University.
Reported by the Technical Unit of Public Relation and Protocol