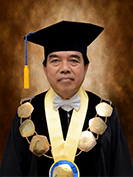 Welcome to the official website of Universitas Muhammadiyah Semarang (University of Muhammadiyah Semarang).
Alhamdulillahirobbil'alamiin, all praises and thanks are due to the Almighty Allah for the favors and gifts that Allah has bestowed on the entire academicians of Unimus.
By saying Basmallah, we will guide you to know more about our beautiful campus. Unimus has a vision to become an excellent, distinctive, technological based, and having international insight, which is translated into nine missions.
As the realization of the vision and missions, Unimus has launched a paradigm "A University for the Excellence".