Semarang │(12/9/2018) Upon accomplishing your study, what will you do? What about working aboard? Why not? For many graduates, working aboard is tempting because it gives people invaluable experience, besides some people will think that their potential is more needed aboard than in domestic area. In addition, the salary is becoming more attractive thing for job seekers. That is why graduates should take any opportunity to work aboard. Japan, in this case, becomes the most attractive destination for job seekers.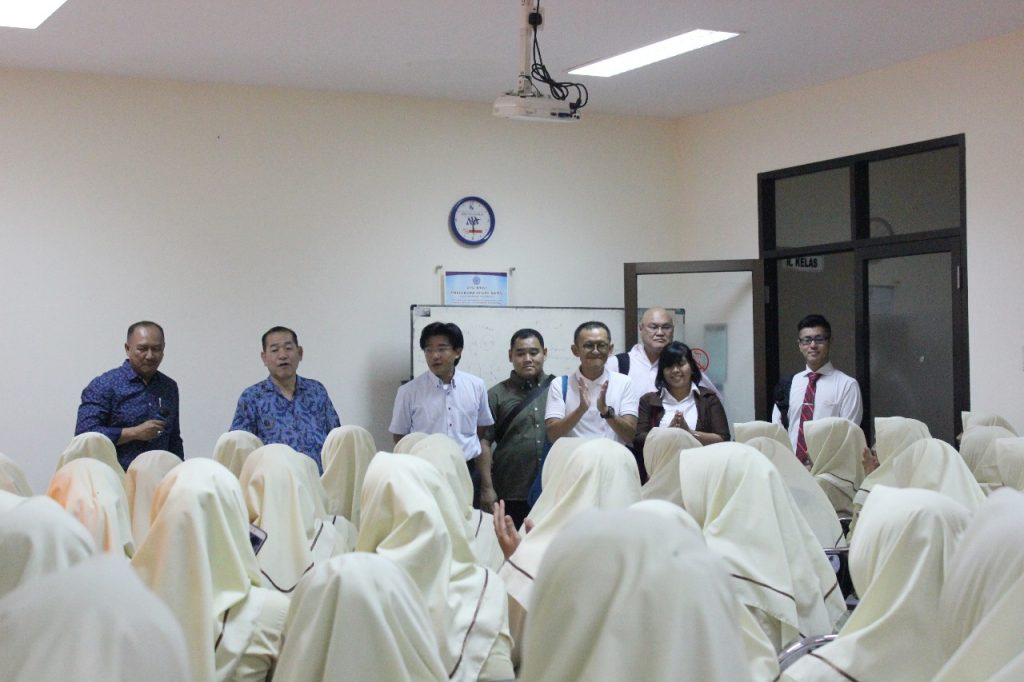 Chairpersons of two Japanese stakeholders during their visit to nursing laboratory
For that reason, Faculty of Nursing and Health Sciences initiated MoU with Japanese companies so that they want to employ Unimus graduates in their companies. At least 7 users visited Unimus on Wednesday (12/09/2018). They arranged discussion with the Head of Departments about internship program in Japan. At that moment question raised by one of Japanese users about their (student) interest to work in Japan. According to student that it will be a great opportunity for them to work in such country that implementing hi-tech and sophisticated equipment like Japan. Another students expressed that Japan is beautiful country to visit. Then another students said that Japanese nursing and health sciences are sophisticated and they also expressed that they will earn more there.
Japanese user was engaged in nice discussion with nursing students in the classroom
Meanwhile, the Head of Magdy Indonesia, Mr. Hary Kurniawan explained that today there are more job opportunity with health and nursing qualification. "One of the best health graduates among Higher education institutions in Central Java is Unimus, so it is expected that Unimus alumni can be the one joining PT Madgy Indonesia internship program. There, alumni will learn about Japanese language and culture in LPK Magdy Indonesia before going to Japan". He ended.
Reported by the Technical Unit of Public Relations and Protocol